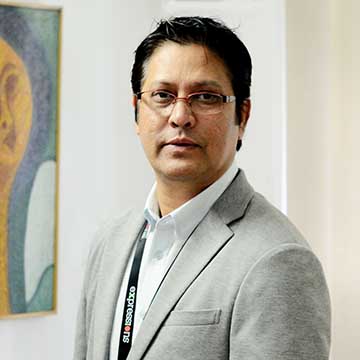 Syed Apon Ahsan
Director & Chief Belief Officer
He is an eclectic mix- assertive, yet empathetic. Has avid interest in film, theatre, traveling & gadgets. Very much process-oriented but flexible. Always explores & wants to innovate to fulfill the clients' need. Prefers to cut through the clutter to stand out with clarity.
With almost 25+ years' experience in advertising & communication, now one of the integral parts of EXPRESSIONS 40+ strong personnel, involved in developing brand & social campaign strategy, media planning & buying, copywriting, designing, printing, AV producing and event management; both for local and multinational organizations. Deals with non-traditional media, consumer engagements & digital media apart from traditional media.
Has quite substantial numbers of TVC directions to his credit.
A good learner & participated in many workshops, seminars & training in Bangladesh, Nepal, India, Sri Lanka, Thailand & Japan to acquire knowledge.
A stage performer, hardly sees any point in leaving a gap between decision & execution!